Featured Entries
Websites:

Accessible PowerPoint
Know a good UDE website or resource?
The Accessible Virtual Campus
Residential Housing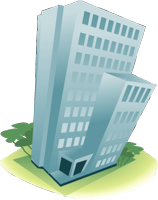 A dormitory is a community with a wealth of accessibility concerns, including but not limited to rooms, food service, assembly areas, and safety. Many resources related to housing have useful information to apply to building accessible residence halls. Builders and designers may look to go beyond the ADAAG standards, which provide minimum quidelines for accessible environments.
In addition to consideration of the built environment forms, posters, announcements, etc. all need to be universally designed. See Instructional Methods and Media & Materials pages for tips.