Featured Entries
Know a good UDE website or resource?
The Accessible Virtual Campus
Posters and Exhibits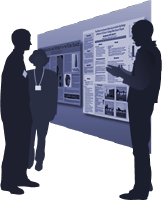 Posters and Exhibits are significant educational resources. As we develop them, or teach our students to present their work in this format, it is essential that the access issues of people with disabilities are considered.
12 items: 4 internal 8 external

Accessible Documents Using Styles
This PDF contains a quick and easy overview on how the "styles" feature enables the design of accessible documents, as well as organized and structured documents.
R2D2 Center at UW-Milwaukee
Accessible Documents Using Styles


EqTD AUDIT
Use this AUDIT to evaluate the accessibility and usability of non-text graphics in a variety of media.
R2D2 Center at UW-Milwaukee
EqTD AUDIT

EqTD Manual


Equivalent Text Description (EqTD) Tutorial for Graphics
This 5 page tutorial provides step by step instructions and examples for writing equivalent text descriptions for graphic elements.
R2D2 Center at UW-Milwaukee
Tutorial for EqTDs


Writing Equivalent Text Descriptions (EqTDs) Posterette
This short 2-page document provides the essential "bare-bones" of what needs to be included in an equivalent text description (EqTD) and where the EqTD should be placed in a document. Whenever you create a document, whether it is electronic or paper, any non-text based element (e.g., picture, graph, "eye-candy") is not accessible to many individuals, so EqTDs should be provided.
R2D2 Center at UW-Milwaukee
Writing EqTD's Posterette


This printable checklist addresses making the arts more accessible for people with disabilities.
National Endowment for the Arts

This article by Roger Hudson explains how to present data in an accessible table. He includes how to design the table, how to make it friendly to a screen reader, how to create both complex and simple tables, how to test the tables accessibility, and much more.
"Web Usability"

This website contains information on how to create an accessible poster from the American Public Health Association (APHA). It is one if APHA's goals to make meetings accessible to the widest range of people possible. This website gives bullet-points in several categories to make your poster more accessible.
American Public Health Association (APHA)

This website is everything you would want to know about color and accessibility. While this page was prepared for web accessibility, these issues also are relevant for print, poster, Power Point, etc. materials.
University of Minnesota Duluth

This web page includes 3 general guidelines for making effective color choices that work for everyone when designing.
Lighthouse International

From the Thursday afternoon workshop with Dr. Sheryl Burgstahler. This website provides a checklist of how to make conference exhibits and presentations welcoming, accessible, and usable.
Burgstahler, S. DO-IT, University of Washington

This paper which can be downloaded in PDF format has information on making printed posters. The paper covers using accessible text, using images, poster size and spacing, poster organization, and providing multiple formats.

This pdf document contains Smithsonian Guidelines for Accessible Exhibition Design. Accessible design must be a part of the new philosophy of exhibition development because people with disabilities are a part of museums diverse audience. Discovering exciting, attractive ways to make exhibitions accessible will most directly serve people with disabilities and older adults. But to name an audience who will not benefit by these designs is impossible. Accessibility begins as a mandate to serve people who have been discriminated against for centuries; it prevails as a tool that serves diverse audiences for a lifetime.
Smithsonian Accessibility Program