Featured Entries
Know a good UDE website or resource?
The Accessible Virtual Campus
Tactile Diagrams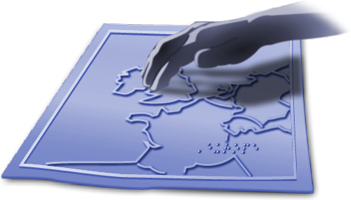 Tactile Diagrams are one method of making visual material available to students who have visual or perceptual impairments. Read on...

This printable checklist addresses making the arts more accessible for people with disabilities.
National Endowment for the Arts

The Touch Graphics website offers state of the art/science multisensory products, such as tactile maps and talking tactile tablets, for education and exhibits.Touch Graphics products have been developed through a series of research grants from the National Science Foundation and the US Department of Education.
Touch Graphic, Inc.

This pdf document contains Smithsonian Guidelines for Accessible Exhibition Design. Accessible design must be a part of the new philosophy of exhibition development because people with disabilities are a part of museums diverse audience. Discovering exciting, attractive ways to make exhibitions accessible will most directly serve people with disabilities and older adults. But to name an audience who will not benefit by these designs is impossible. Accessibility begins as a mandate to serve people who have been discriminated against for centuries; it prevails as a tool that serves diverse audiences for a lifetime.
Smithsonian Accessibility Program