Illustration Representing Student Testing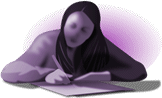 Brief Description:
Illustration represents Testing section of website.
Essential Description:
A computer generated graphic illustration of a student taking a "pencil and paper" test provides a quick visual reference for the Testing section of the website.
Detailed Description:
A female student is seated, bent over a paper and with a pencil in hand. She appears to be in the midst of taking an exam. The entire graphic is shaded in a purplish color maintaining continuity within the Teaching Methods section of the website.