Illustration of Tactile Diagrams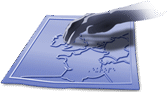 Brief Description:
Illustration of a hand feeling a tactile map represents Tactile Diagrams section of website.
Essential Description:
An illustration of a tactile map being touched by a hand provides a quick visual reference for the Tactile Diagrams section of the website.
Detailed Description:
Fingers feel along the raised portion of a tactile map. The illustration is shaded in a bluish color providing continuity with the Learning Materials section of the website.