Illustration of Student Union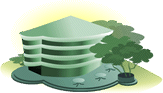 Brief Description:
Illustration representing the virtual campus student union section of website.
Essential Description:
A building representing a student union center found on a typical college campus. This illustration provides a quick visual reference for the Student Union section of the website, where universal design resources are found that are related to union activities and buildings.
Detailed Description:
A modern rounded greenish building with a terrace surrounding the building and tables and attached seating on one side of the terrace. The building is four stories tall and each floor has all windows from floor to ceiling with small overhangs between each floor.