Photo of Computer Kiosk Accessibility Blooper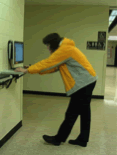 Brief Description:
A photograph shows awkward posture of a tall student standing at a too low computer kiosk.
Essential Description:
A photograph of a student bent over to view the screen of a wall mounted computer monitor demonstrates an "Accessibility Blooper"
Detailed Description:
A tall student in a yellow winter parka leans forward to peer at a computer screen on a monitor that is mounted at chest-height on the wall of a building corridor. She is resting her hands on the keyboard below or leaning as if she is supporting her awkward stance.