Illustration of Administration Building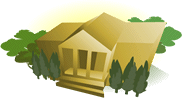 Brief Description:
Illustration of the campus administration building.
Essential Description:
An illustration of a building representing an administration center found on a typical college campus serves as a quick visual reference for the administration building of the virtual campus, where one can find related resources.
Detailed Description:
A deep gold colored classic-style building is surrounded by trees. Steps lead to the entrance, which is covered by an overhang that is supported in front by at least 4 pillars. The three dimensional view of the office or government building gives the impression of looking slightly downward at a right angle.