Illustration Representing Academic Departments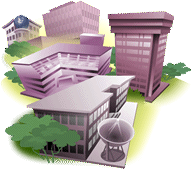 Brief Description:
Illustration of a group of generic college buildings represents Academic Departments Section.
Essential Description:
An Illustration of a cluster of 5 varied buildings represents where college classes are taught. This graphic provides a quick visual reference for the Academic Departments section of the Accessible Virtual Campus which has many universal design resources.
Detailed Description:
A group of buildings, all shades of purple, represent the different kinds of classrooms on campus: the Arts and Humanities building with the auditorium and light-filled studios; the Science, Technology, Engineering & Math building with a plain, low-rise structure and a satellite dish; the Social Sciences building with labs and lecture halls; and the Geography building surmounted by a giant globe.