Illustration of The Virtual Campus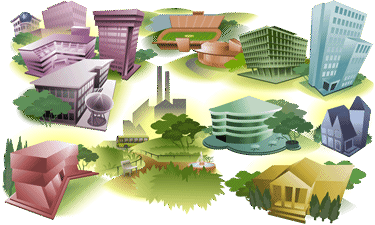 Brief Description:
Illustration of a variety of buildings represents the Virtual Campus.
Essential Description:
A cluster of colorful campus buildings provides a quick visual reference to the Virtual Campus section of the website.
Detailed Description:
This multi-colored computer graphic illustration consists of nine unique buildings or places commonly found on college campuses. Each structure differs in color and shape, representing a specific facility. All nine images are clustered together representing the college campus as a whole.